Profile

☆☆ART☆WRITING☆RANDOM☆☆
You don't have to sound-out a picture
This journal should be viewed with discretion.
Free Account
Created on 2009-05-03 21:01:00 (#257036), last updated 2016-01-26 (86 weeks ago)
3,306 comments received, 345 comments posted
759 Journal Entries, 54 Tags, 2 Memories, 90 Icons

About

Mini Bio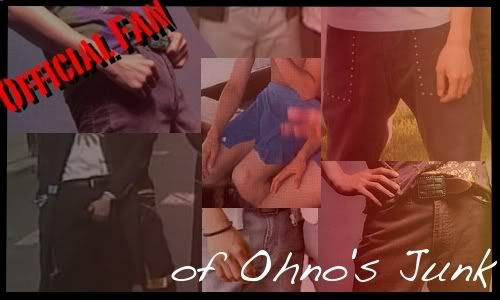 "It needs more blowjob." - America
About Me
★ Aya, female, 24-years-old. Writer, reader,
sometimes artist
. Has an infintile sense of humor at the best of times and a weakeness for visual puns. Uses this journal to post fanfiction (and occassionally fanart) of a number of Asian entertainment idols, primarily focused on the members of the Japanese idol group 嵐 [ARASHI]. Currently a student in college pursuing a degree in something fandom cares absolutely nothing about.
About This Journal
★ I created this journal to play around in fandom with and retain anonymity in other places. The contents tend to be strictly fandom-related, though vaguely amusing tid-bits from my real life filter through at times. The journal is labeled as containing explicit adult content due to the fact that I say, do, and post things that are not typically deemed suitable for minors under the age of 18. If you are under the age of 18, that's fine, poke around,
but do not tell me you are underage
.
About Friending This Journal
★ Because the contents of this journal are limited to fanworks I do not lock any entries. If you would like to friend this journal to follow my work, please do so! However, I only friend back people who I either A.) Know in real life, or B.) Have gotten to know and befriend through livejournal. I appreciate the watches, but know that you're not missing anything if I don't friend you back! It's not because I don't like you. I know you're probably a very nice person, but I don't check the friend's page for much other than community updates. So don't be afraid! If you would like to un-friend this journal at any point in time, please feel free to do so as well. I won't be hurt.
About Icons, Artwork & Graphics in This Journal
★ Unless otherwise specified, all artwork, graphics and icons made and posted in this journal are
NOT
for public use. If I make icons for myself, please do not take them. If you must take them, please credit me properly (a simple 'made by tangiblewhimsy' will do!)
DO NOT REPOST OR REUPLOAD MY ARTWORK!
I cannot stress this point enough. I appreciate that you enjoy it and you'd like to share it with others, but this is a public journal, anything you can see others can too. If you have a friend that you'd like to share something I did with then feel free to link them to me! Or if they haven't an LJ, simply right-click > copy image location in your browser and send the link. But I am incredibly uncomfortable with my artwork being posted other places without my explicit knowledge or consent; so please,
please
be courteous and respectful of this wish. Thank you!
master post
layout
icon
css
banner
Fanworks Awards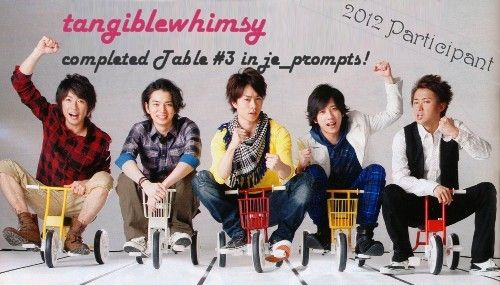 banner by

lastingdreams8

banner by

lastingdream8

banner by

nicefinalbeam


banner by

nicefinalbeam

banner by

nicefinalbeam

banner by

nicefinalbeam

banner by

nicefinalbeam

Connect
4tops
,
a.b.c.
, a.b.c.-z.,
aaron yan
, acrobatic boys club,
aiba masaki
,
arashi
,
arashi no shukudaikun
,
butoukan
,
calvin chen
,
daigo
,
daito shunsuke
,
danson tang
,
domoto tsuyoshi
,
eita
,
fahrenheit
,
goseki koichi
,
hamada takahiro
,
hasegawa jun
,
ikuta toma
,
j-drama
,
jiro wang
,
johnny's & associates
,
johnny's entertainment
,
johnny's junior
,
kat-tun
,
kawai fumito
,
kazama shunsuke
,
kinki kids
, kyoumoto taiga,
mago mago arashi
, matsuda shouta,
matsumoto jun
,
miura haruma
,
miyavi
,
mizushima hiro
,
morita myuto
, nakata daichi,
ninomiya kazunari
,
oguri shun
,
ohno satoshi
, ohno's penis,
porn
,
sakurai sho
,
sato takeru
,
shirota yu
,
smap
,
smapxsmap
,
taguchi junnosuke
,
tanaka juri
,
tanaka koki
,
tank
,
tokio
,
tomiura satoshi
,
ueda tatsuya
,
v6
,
vs嵐
,
wu chun
,
yamamoto yusuke
,
yamashita tomohisa
,
二宮和也
,
大野智
,
嵐
,
嵐の宿題くん
,
松本潤
,
櫻井翔
,
相葉雅紀

People
[View Entries]

Communities
[View entries]

Member Of (14):
abscondpress
,
arashi
,
arashiritori
,
bloodcontract
,
dontjudgeme
,
jefiction
,
kittodaijoubu
,
kotobayori
,
mainichi
,
newshfan
,
sakura_daikon
,
stormwriters
,
thessbonita
,
whimsydownloads

Subscriptions (13):
15_minute_fic
,
abscondpress
,
arashi
,
arashiritori
,
bloodcontract
,
dontjudgeme
,
kittodaijoubu
,
mainichi
,
newshfan
,
sakura_daikon
,
stormwriters
,
thessbonita
,
whimsydownloads

Administrator Of (6):

Feeds
[View Entries]

Subscriptions (0)

Linking
To link to this user, copy this code:
On Dreamwidth:
Elsewhere: